Grading System
Home » Grading System
Kickstarters Grading System
Kickstarters has a bespoke grading system to assess your child so you know exactly where they are in their Kickstarter's journey. There are grades 1-6 that the learners will progress through, as they develop fundamental skills in football, coordination and movement as well as learning reading skills.
Parents are involved in their child's progress.
Your child is given a milestone card which will allow them to see what their targets are and what they need to work on.
After each block of sessions that your child attends, they will be updated to see their progress.
There are special Kickstarters medals for achieving each Grade
Kickstarter's sessions are planned specifically to meet the skills the child is working on.
Milestone Cards
The Grades range from 1 to 6 and focus on three key areas: skills section, co-ordination section and reading.
Grade 1 is where the child would start in their development, with the participant having no experience of playing football at all. Their targets include : running after the ball if it goes away(skill), stopping and standing still straight away when asked by the coach (co-ordination) and to keep sat down whilst the story is being read (reading).
Up to Grade 6 where the child would be at the stage where they are starting to not need the aid of a story to engage them in their understanding of football. Their targets include : perform 'toe taps' with alternative feet all of the time (skill), performs star jumps, bunny hops and hopping confidently (coordination) and understanding the link between the story and the football activities (reading).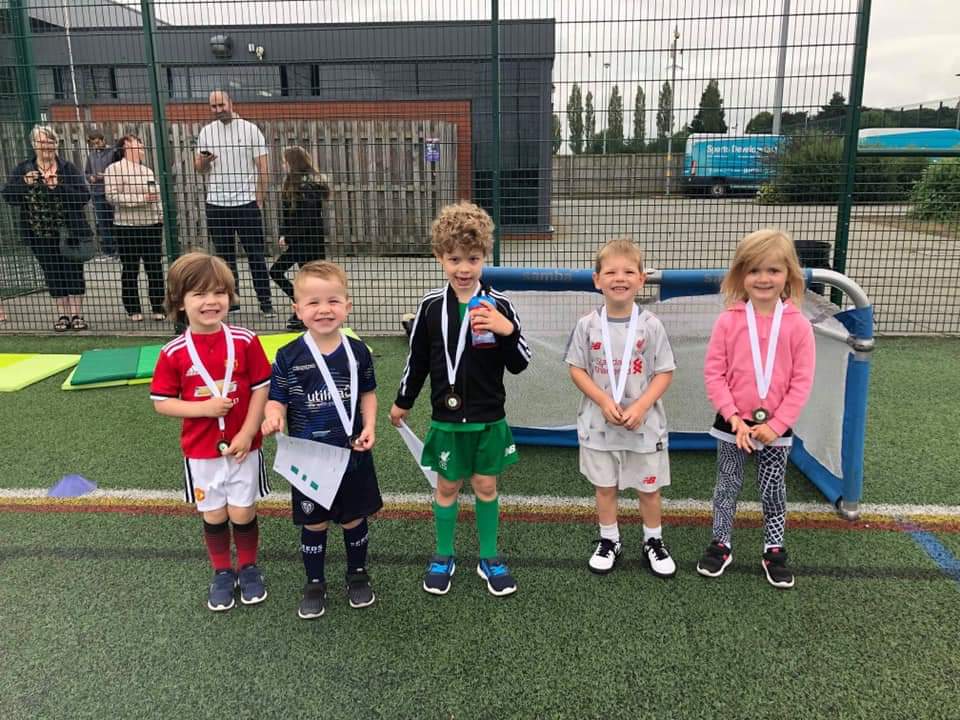 Join Our Team!
Kickstarters©™ is looking for passionate, enthusiastic coaches to join this new company. We are currently looking for experienced, dedicated and qualified sports coaches to work on a part-time basis.